Marriage and weddings are elaborate affairs in India. Coming from the eastern part of the country i.e Calcutta wedding is all about a 3 day tradition with sarees, gold ornaments, vermilion, mouthwatering food and family reunions. On this note, I will take you through the pages of my Wedding Diaries with my Dainty Wedding Series.
I am gonna start off with my Wedding Morning Look.
Bengali Weddings start with a small Puja and Haldi ceremony. Since the whole ambience is washed with the yellow glow, I have chosen a yellow saree (traditionally termed as a Basanti Taant Saree). A matching elbow sleeved blouse gives that bridal charm to the whole look. For my wedding and all other related rituals, I have worn the inherited jewellery from my mom and grandmom. The emotions, the love that these jewellery have passed down through generations are precious than any other jewel. Afterall, as we all know  'Old is Gold'. Chandelier Jhumkas, Sleek bangles and a big ring made my morning look all sunny and bright in a new bridal avatar. 🙂
The white crown is a must for every Bengali bride along with the shakha pola and aalta. All ready in my traditional and wedding best, I was set to tie the knot with my man. 🙂
The make up was kept very fresh and glowy. For my eyes I used a warm eye palette from Lakme and a heavy dose of mascara from Maybelline. The lips were tinted in a bright fuchsia pink from Lakme Absolute Range. The face was done in a medium foundation coverage with the Maybelline Foundation Mousse, topped with lots of pink blush to give that bridal feel. I got my complete makeup kit from Nykaa.
I will come back next time with the style story of my actual wedding hour in the evening on the Dainty Wedding series.
Till then, on a happy note I would love to share with you that Dainty Street is selected as one of the Top 40 Street Fashion Blogs on the Web by Feedspot. Extremely happy to share the badge with you all! Thank you all for the support.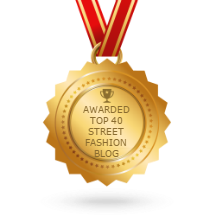 More power to Street Style at Dainty Street! 😀